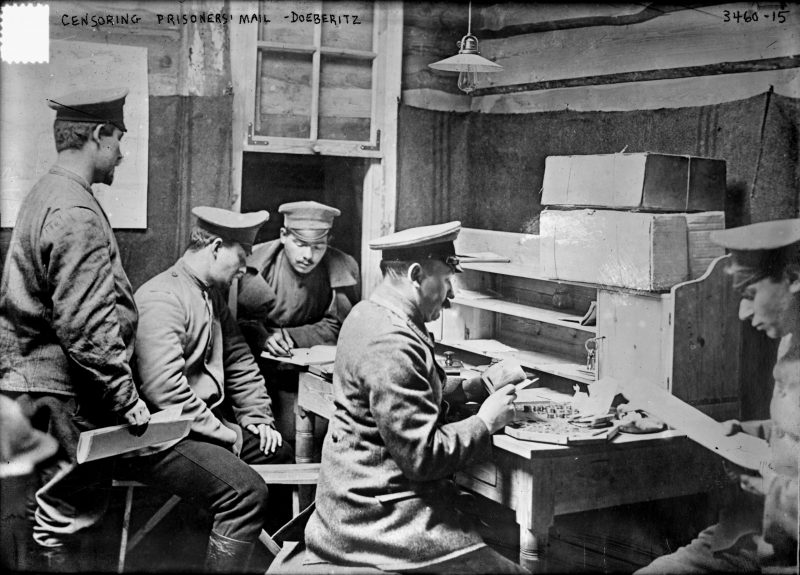 Free services always come with a day of reckoning…
It was the late great FOSS pioneer Atul Chitnis, one of the first 100 clients here at easyDNS, who acquainted me with the idiom: If you're not paying for the product, you are the product.
Nowhere could that be more true than with a company whose entire business model is mining and harvesting data: Google.

In January they broke the news to users that they were finally sunsetting their free Google Workspace accounts and moving those users to paid tiers based on their usage. When Google Apps was phased out in 2012, users with "custom domains" (the ability to use one's own domain with the G Suite) were moved into Google Workspaces and they continued to be free, until now.
For affected Google users the paid tiers will come in between $6 and $18 per month per user. Granted that comes in with decent storage quotas and video conferencing. So probably not unreasonable for some businesses. That's if you're ok with your email being data mined by a search monopoly that can use your private and business correspondence to target ads (frankly, I'm always a little stunned when I see lawyers, investment bankers or other professionals with a duty to confidentiality using gmail, but I digress).
It's All About Email
Most of the "victim impact statements" I've seen around, on Twitter or on this, at times, incendiary Hacker News thread focuses on email. Email is hard to move. People have their entire lives in their inbox and sent-mail.
In many cases people and businesses experience more disruption and angst over an email outage than their website being down. The latter may seem an inconvenience, the former cuts them off from the world.
A lot of easyDNS clients who have their domains with us, used this custom domains feature to put their email on Google under their own name.
Now a lot of them are looking for a place a land and many of you may not know that you already have one foot onto the most accessible option for your use case: Right here at easyDNS.
Most of the  domain packages here already come with easyMail included:

Those prices are annual, for the entire package and they include the domain name fees.
One client caught up in the forced move did the arithmetic on Twitter and calculated that for his use case he'd end up paying about half what he'd be charged over at Google:
If you're worried about how you would move all your email here, you can use our IMAP migration tool which will bring everything over for you and drop it into the same folder structure you have set up at Google.
Our main webmail client is Roundcube, which thanks to an inbound Google refugee now supports 2FA logins (the main control panel already had 2FA).
Other Nerdy Nice-To-Haves
Support for DKIM / DomainKeys, one-to-one email mapping, full control over SPF enforcement, and speaking of SPF we're one of the few providers who won't break SPF on email forwarding by implementing Sender-Rewrite-Scheme,something not even Google does.  (Full feature list is here )
Most importantly we do not, never have and never will data mine your email correspondence. Ideally we'd like to be able to encrypt your email at rest, it is an aspirational goal. One thing you can do here is use our GPG encrypted email forwarding, which almost gets you there.
For years, decades even, we've been tirelessly evangelizing that with free services, there always comes a reckoning down the road. If it's done to grow a hot start-up, then eventually there's an "exit event" like an IPO or acquisition and the new regime wants a return. They need to monetize those free users, somehow.
In Google's case, their business model was always and everywhere: datamining.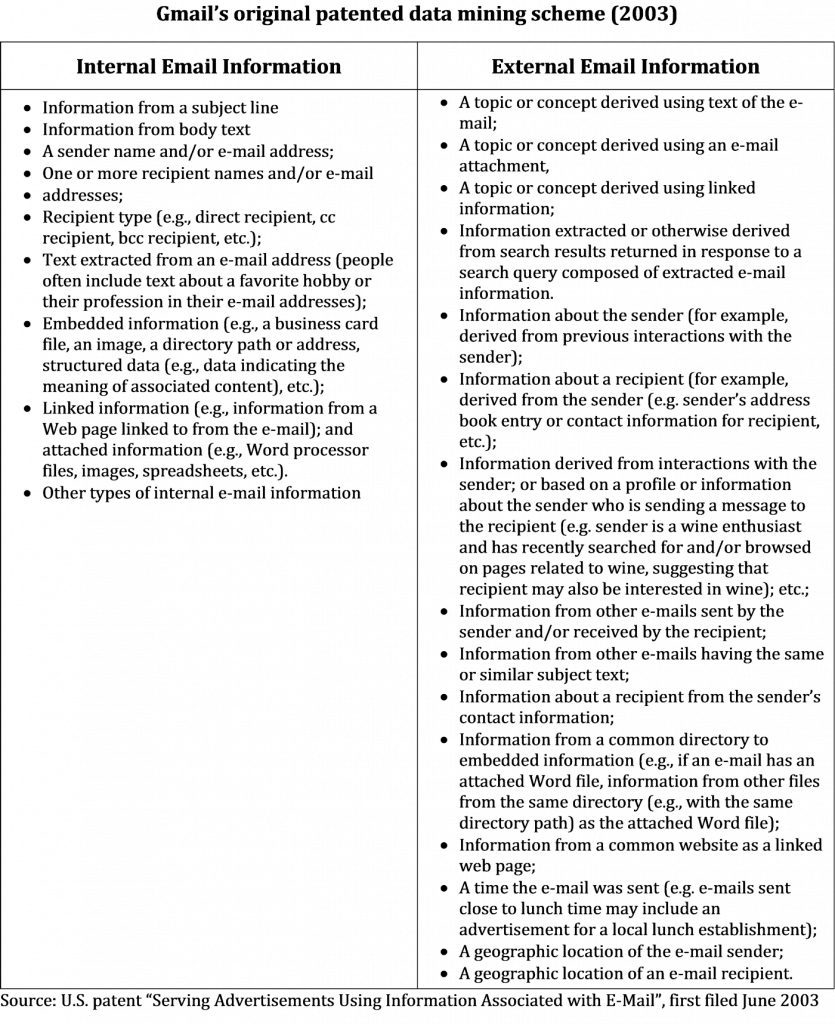 The table above comes from a 2014 Medium piece sub-titled "Gmail isn't really about email — it's a gigantic profiling machine". It pulls from revelations uncovered from a court case in those days showing the underlying, implicit incentive structure of Gmail.
That may seem like a long time ago, but ask yourself if, in the intervening years, Google has become more benevolent in their activities and tolerant around free speech or less so. Here's a hint: In 2018 they removed "Don't Be Evil" from their corporate code-of-conduct.  Make of that what you will.