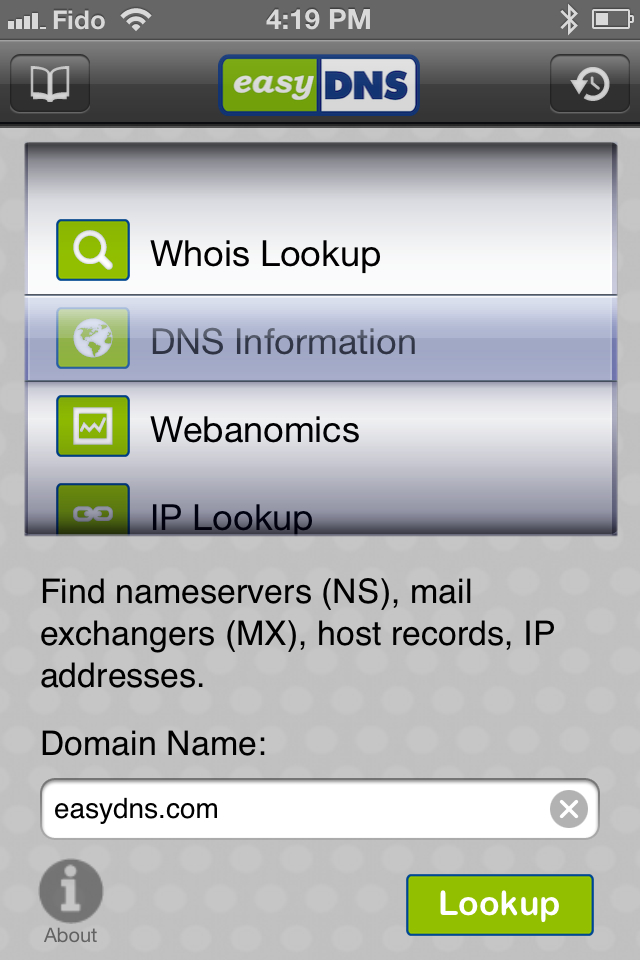 We've released an updated version of our (free) easyWhois iPhone App. In 2009 we worked with easyDNS  customer Art and Logic to release an iPhone App version of our popular easyWhois domain lookup tool. They were great to work with, and as is their norm, they sent us off with fully functional iPhone App and the source code thereof.
In the interim, we added a new systems engineer here, and while it wasn't listed on his resume, Ranko came to Canada from Serbia with a girlfriend, Marija, who does a lot of c++ and mobile apps coding. She coded the easyIPCalc subnet calculator that we released earlier this year, and just over a week ago we turned her loose on the original easyWhois App source.
The result is a much needed breath of fresh air for the easyWhois iPhone App, adding in new features such as:
Emailing the results of a lookup.
Lookup History
Bookmarks
Snazzy new "look-and-feel"
If you haven't already, grab this whois client for your iPhone and never wonder again if LindsayLohan4President2016.com has already been snagged or not.
(And yes, I guess we really should get on Android version, shouldn't we?)