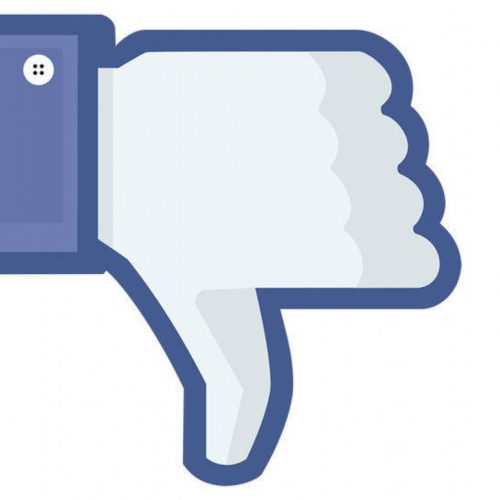 For the second time in less than a month, Facebook has canceled a boosted post from easyDNS.
The first occasion was on Feb 3rd when we posed the question on whether social media platforms should be the final arbiters of truth (response from Facebook: "yes"). Note the boost was originally approved and then canceled mid-run.
This time they canceled our boost for this post  which aimed to raise awareness Canada's Broadband Telecom Legislative Review (BTLR). The post linked to our blog, which contained a call-to-action to sign our petition in the House of Commons, which  is sponsored by a sitting Member of Parliament.
What gets me about this one is that we had already boosted this post for a successful 5-day run last week, and it did pretty good, fostering a mostly healthy discussion thread and being shared widely. Facebook's own algo suggested "Boost again" and I figured, "why not?".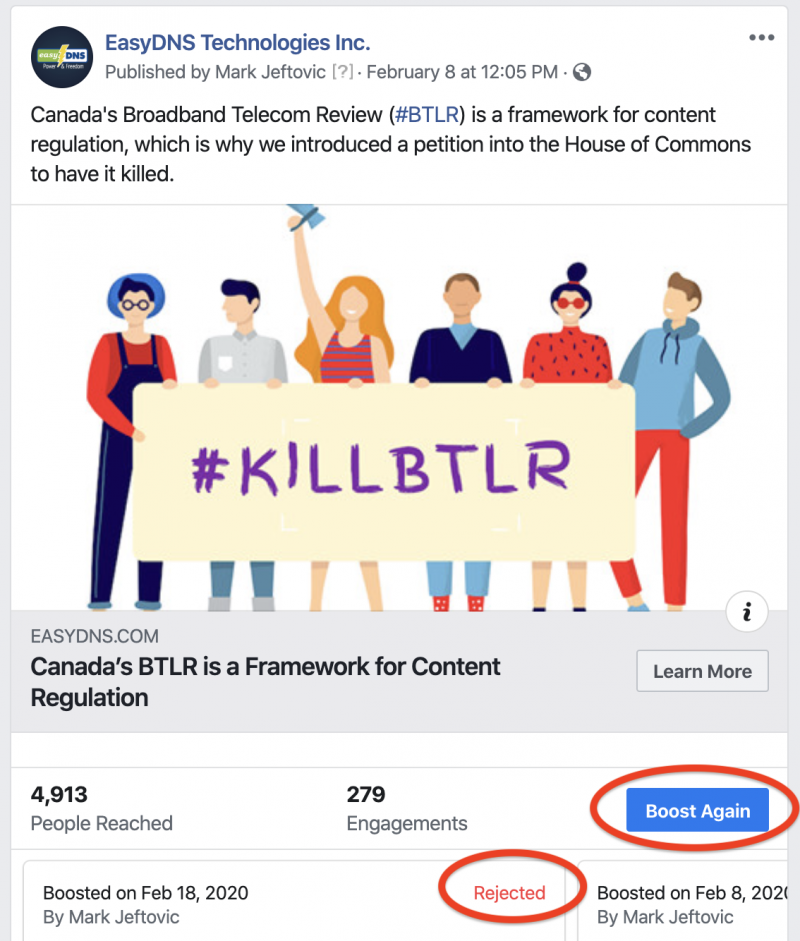 It was then approved, started running again and then canceled this morning. We have requested a review of this decision.
I'm not paranoid enough to think this has anything to do with with the release of my latest book, Unassailable, wherein I lay out ways to reduce the dominance of social media platforms over your content. Nor do I suspect that the more easyDNS speaks up about defending your privacy from Big Tech, while also actively combatting government overreach, makes us some sort of target and eventually the next victim of a deplatforming incident.
No, my guess is that most likely, the post was flagged as inappropriate by run-of-the-mill Facebook users who in their own sense of self-importance cannot possibly imagine anybody else holding a different stance than theirs and thus deeming any orthogonal viewpoint as "inappropriate". Again, a theme covered in depth in Unassailable.
People are never more sincere than when they assume their own moral superiority.
— Thomas Sowell
But what happened worries me. Somewhere after the course of the first cancelation, I saw some fine print in my ad dashboard that said, and I have to paraphrase here because I didn't think to screengrab it,
Should you continue to post disruptive content, we may cancel your account.
I feel like that Seinfeld episode where somebody in a white lab coat has just made an indelible mark on our permanent record.
The other thing that is worrying is the inability to open free form tickets or contact a human with these social media platforms. I understand the rationale that on a free service, you don't get one-on-one support. But we aren't free facebook users. We actually pay to boost posts and run ads from time to time, we're a client. Where I come from, if somebody is paying you money you damn well let them communicate with you as required. At least that's the ethos here at easyDNS but I'm frequently reminded that we're old school and out-of-touch.
In this era of the infallible algo, whatever is not in the UX is outside the scope of relevance, and that is actually one of the reasons I don't want the government regulating content in the way BTLR proposes. Because if a lean, mean, profitable racehorse like Facebook can't even accommodate non-standard communications flows from its own paying customers, I don't expect a government bureaucracy to get it any better.
Update Feb 22:
Looks like our appeal has prevailed and the ad was approved and running again this morning.
Update Feb 25:
The ad was canceled again this morning. We have no option to appeal this time.
Learn more about Unassailable: Protect Yourself from Deplatform Attacks and Cancel-Culture here