After 16 years as an iconic .com startup, easyDNS will shed its moniker and rebrand as easy.WTF.
At a press conference this morning, easy.WTF CEO Mark Jeftovic explained "dot COM is a dinosaur. That era is over. The Zeitgeist of the times we live in is captured perfectly by WTF".
The company foresees a meteoric rise in .WTF registrations as compared to .COM, going so far to predict that the total number of .WTF domains would dwarf the current incumbent by 2017.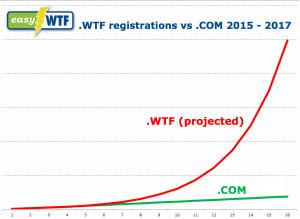 "We want to be on the right side of this tectonic shift", said Jeftovic, adding "no pun intended".
Dismissing the skepticism levelled at a prediction some industry insiders called not only outlandish, but delusional, the easy.WTF founder was undaunted "Remember where you heard it first."
For more information about easy.WTF visit http://www.easy.wtf today.