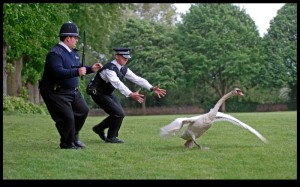 easyDNS has filed an RFE (Request For Enforcement) with the .COM/.NET registry operator (Verisign) under the ICANN Tranfers Dispute Resolution Policy (TDRP) to transfer-out three domains currently locked down by Public Domain Registry in response to the City of London (UK) police shakedown requests.
The domains in question were initially suspended, taking the domains down. After requests from both easyDNS and the registrant, PDR restored the domains' original nameservers but kept them on lockdown, in their own words:
"We have currently unsuspended the .. domain names. However the domains have been locked until further investigations are made. We shall update you in this case as we have confirmation from UK's Police."
It's hard to understand why they are taking their marching orders directly from the UK Police, given the stated aims of the London Police  ICPU (to shut down the domains of websites they have summarily declared to be criminal) it's not likely that they will admit the truth of the matter. In other words, the London Police are not going to come back and tell them:
"Since we don't have a court order, we guess you have to let those domains transfer away to some other registrar who has a better understanding of the utter lack of legal basis behind these takedowns than you do".
Again, they should not be waiting for the London Police to articulate this, what they should be doing is reading up on the ICANN Inter-Registrar Transfers Policy, since they are actually bound by their Registrar Accreditation Agreement (RAA) to abide by it.
Further Reading