Whois Privacy is one of those things we've never done here because we had reservations about the efficacy of it, and felt there were certain inherent dangers to employing it.
We are now officially flip-flopping on that position and will henceforth offer MyPrivacy.net whois control. Here's why:
Our two main objections to using whois privacy were that: a) if you are not listed as the Registrant of the domain name, then you don't really own it and b) your masked data will be escrowed by your Registrar, not your underlying data – so in the event of a Registrar failure (i.e. Registerfly), you can get screwed out of your names that are whois privacy protected.
MyPrivacy.net addresses those issues in the following ways:

For .com and .net domains you can optionally enter your "True Registrant ID" into your protected whois record, that way your address and contact info is privacy guarded, but you are still listed as the domain registrant and thus the true owner of your domain (we are still finalizing this for the thick registry whois like .org and .info).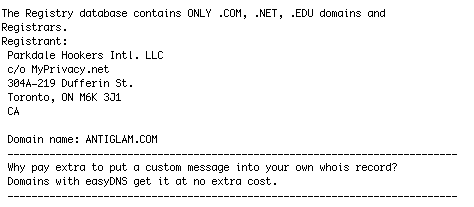 Why Are We Doing This?
A couple of reasons:
Whois privacy is one of the most asked for features from our members, and since you know what you want, we can warn you about the risks, and we can try to improve upon the common implementation to mitigate some of that risk. We've done that here.
Second, after that whole wikileaks thing awhile back, we found ourselves being approached by other groups who were experiencing political pressure because of their online activities. It wouldn't seem right to help one when there's a media sensation in progress but then turn away other groups taking heat for doing similar things. Over the past year we began working with three groups in particular who work with a lot of NGO's and civil society organizations and now we have close to three hundred wikileaks on our hands, and most of them wanted whois privacy. (We created a separate infrastructure for it as well).
Who Should Use Whois Privacy?
We think there are a few cases where you may want to use it, including:
You are a blogger or writing personal or sensitive material and you want to protect your privacy
You are a start-up in "stealth mode" or you are registering some domains for a project you do not want to reveal yet
You are registering personal use domains and don't want the spam, telemarketing and junk mail
Who Should NOT Use Whois Privacy?
We recommend against any business or ecommerce entity from using Whois Privacy because it tends to look scammy. If you're going to plug into the net and conduct business there, you need to be reachable, identifiable and accountable. Put your true contact info in your whois records.
How Much Does It Cost?
MyPrivacy.net costs $4.95/year when added onto our new DomainPlus package (full DNS, URL and email forwarding for $15/year) or DNS Hosting package. It is bundled with DNS Pro and Enterprise DNS (remember, we also bundle the domain registration fees at Enterprise Level as well).
How does this compare against other Registrars?
Register.com – 11.99/yr
DynDNS – $9.99/yr
Godaddy – $9.99/yr
Aplus – $9.99/yr
How Do I Get It?
If you're adding a new domain or transferring one in, simply tick on the checkbox to Add Myprivacy when you select your service level. To add it to an existing domain click on the Add-Ons link on the Domain Settings tab.
Under What Circumstance Will We Turn Off MyPrivacy?
Great question, and one you should ask any registrar providing this service. We will turn off MyPrivacy on the following conditions:
If ordered to by a court of law, here in Ontario.
If the domain becomes the target of a Registry sanctioned Dispute Resolution Proceeding
If the domain violates the easyDNS AUP
If the domain expires.