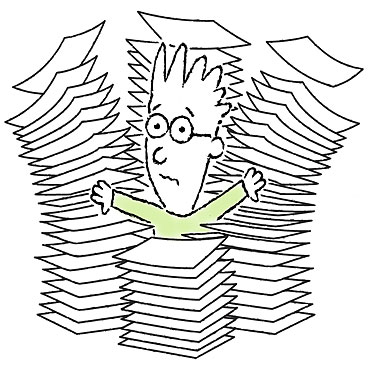 We don't want to sound like hippies here, but it's sort of hard to miss the fact that there seem to be a lot fewer trees around than there were a while back, y'know? Whatever your take on global warming, we've all pretty much realized there's been a bit too much of the chopping and pulping going on, and looking around the office, it's not hard to see why. We seem to be drowning in paper.
If you're like us, you probably have to file and store a whole lot of documents and forms for various reasons (thank you Revenue Canada!), as well as keep track of all sorts of company information, business cards, technical manuals, etcetera… etcetera..  and so on. And then there are the faxes that come in, and the receipts, and the invoices, and the bills… It piles up, you put it in boxes, you store the boxes, then you stack the boxes, then you put cushions on the boxes and pretend it's a new couch for visitors to sit on, you know how it goes. Oh sure, we do our bit to recycle here.  We make sure our printing paper is made from mostly recycled paper, shake the toner cartridges and use low-power modes and the usual things , but lately it's been occurring to us that waitaminnit… why are we still using all this paper stuff anyway?  Aren't we an IT company? Don't we live in the future? Where's the paperless office already?
A lot of resources and tools have come into play in the past few years that make it possible to really reduce the impact we make on our environment, speed up filing and sharing of documents and frankly, save a bunch of money while we're at it (not to mention getting rid of a bunch of filing cabinets!), so we figured it's time to gear up and start lightening the load. A couple of our guys have started putting together a road-map of how we want to do this, and we figured we'd keep up a journal on the blog to share our progress and any tips or pitfalls we run into along the way. Hopefully we can make it easy for others to try it as well.
If you want to follow along, we'll be tagging posts and updates under 'Going Paperless', keeping track of results, and generally having some fun with it.
Let us know what you think and if you have any ideas, and please remember that you can always pay your invoices by Paypal or credit card with no need to print anything!