Mastodon is in the news lately and there is a lot of fresh interest. This article will take you through the background of what it is, why it's experiencing a surge in popularity and how you can participate in "The Fediverse" from an individual, group or node operator level.
What is Mastodon?
Mastodon is an open-source, decentralized micro-blogging application, similar in function to Twitter.
Where Twitter is centralized and subject to control by management, Mastodon's architecture has no central control or authority. Individual Mastodon instances run their own nodes, and those nodes relay messages across the federated network, known as The Fediverse.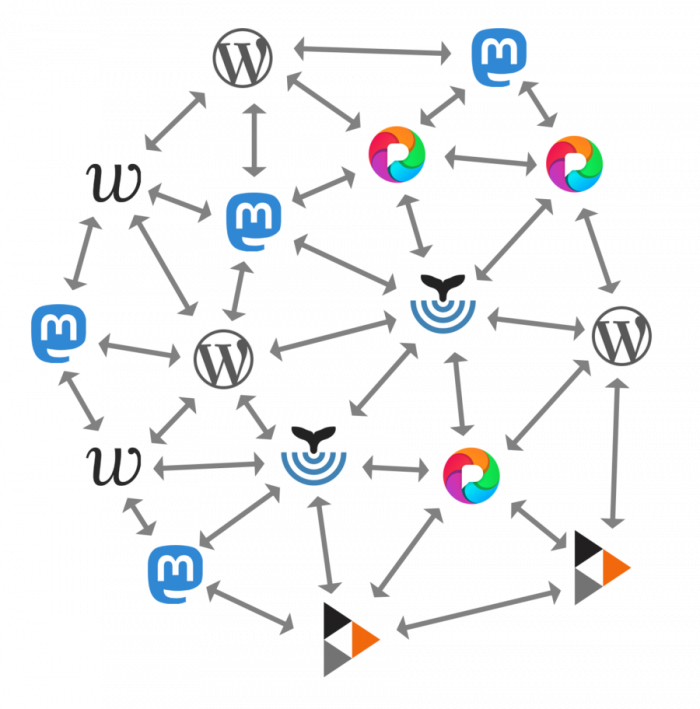 Each node sets its own policies and forms its own community standards. Nodes can decide on their own level of content moderation or what material is permitted.
There is no central authority that decides what is permissible across the Fediverse – only localized policies across individual nodes.
Why Mastodon is such a big deal lately
Mastodon has been around since March 2016, the date of its initial release under the GNU AGPLv3 software license. Anybody can download the Mastodon source code from its Github, and the main stipulation under AGPLv3 is that if you make any modifications to it, you must make your modified source code open source as well (this comes back into the picture in the "Caveats and Cons" section below).
easyDNS has been running a Mastodon instance since 2018 and been a gold sponsor of the project since 2019:
Happy to become a #mastodon gold sponsor. Check it out today…. https://t.co/Lfba7dDhBc pic.twitter.com/QgFIIp7H1F

— easyDNS (@easyDNS) August 19, 2019
Elon Musk's acquisition of Twitter set off an explosion of interest in alternatives to the platform, when many disagreed with his incoming policies and management style. Not the least of which was the recent lifting of the erstwhile permanent suspension of the @realDonaldTrump account.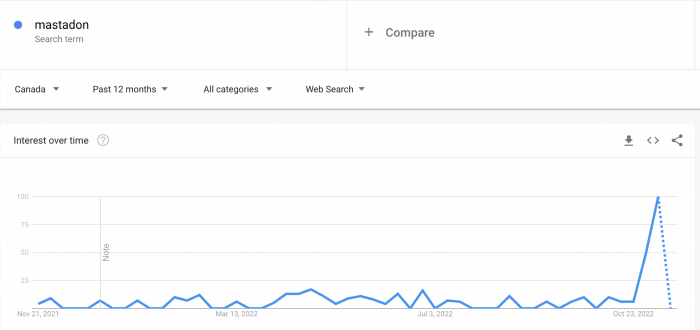 Regardless of your political stance – Mastodon arose before now in reaction to centralized control over social media and the preexisting vulnerabilities around cancel-culture and deplatformings.
What can you do about it
Anybody, be it a group, organization, collective or even a single individual can create their own mMastodon instance and run it on a commodity VPS, connect it to The Fediverse, and be up and running on their own node, using their own custom domain name.
You can even use one of the many bridge services or Mastodon/Twitter crossposters so that your Twitter account and Mastodon handle are connected:
Whatever you tweet on Twitter will be syndicated across The Fediverse via your Mastodon account
Whatever you "toot" via Mastodon will get pushed out your Twitter feed.
The Benefits of running a Mastodon instance
Without going too far afield on a tangent, anybody who has been following our stance on a lot of these issues knows that we think the world is headed for a decentralized revolution. The left vs right polarization of political discourse is viewed here as a false dichotomy. The future political spectrum will probably be more about the tension between further centralization (a.k.a "control freaks")  and decentralization (networks), than anything else.
By running your own Mastodon instance you achieve:
More granular control over policy, moderation and local community standards
Protection from being canceled or deplatformed by entities outside of yourself
General censorship resistance that would be of interest to political dissidents, independent journalists, political opposition parties and marginalized communities of any kind.
Caveats and Cons
There are some caveats and downsides to everything. Knowing them before making the move, or committing to running an instance, can preempt surprises down the road..
Mastodon is truly decentralized

But you thought that was the defining feature, right? It is. Except that, not only will you, and the people who think like you be attracted to Mastodon; so will those whose views you find objectionable, even indefensible. They're all going to wind up on Mastodon too, and there's not a damn thing you can do about it.For example: in 2019 the controversial social network Gab forked a copy of Mastodon and began using it for their platform. The Mastodon maintainers objected philosophically – and also claimed that Gab's implementation violated the AGPLv3. However, they were largely powerless to prevent this fork. Individual node operators can choose not relay or peer with given nodes.
The UX is arguably inferior. There are mobile clients, and you can run from within a web browser – but it's not Twitter. At least not yet. With this renewed vigour within the ecosystem, one would expect rapid improvement in UX options but just know that at the moment, it's not the bird app.
There will be spammers. Sometimes people set up a node and then it falls into neglect – spammers can find it and overrun it with bot accounts that just spew spammy garbage into the Fediverse. You have to decide whether to moderate this and to what extent (come to think of it, the easyDNS node is overdue for a good culling).
People can still say mean things to you in The Fediverse: Even if you've found yourself a node that is the most cozily bubble-wrapped echo chamber that fits your worldview, if that node is peered with the network (and they almost all are), some a**hole can still come in out of deep space and say something mean to you. Even worse, there is nobody you can complain to that will take their account away. You'll just have to mute them or block them and move on.
ID's are not portable between nodes. If you have an account on a specific node, for example, mine is @stuntpope@nojack.easydns.ca, and that node goes away or cancels your account (remember, that can still happen at the individual node level), then you lose your followers, messages, saved media, etc. The only way to be truly bulletproof against losing your account in Mastodon is to run your own node under your own custom domain name.
Here's How to Run Your Own Mastodon Node
In order to do this you'll have to be somewhat technically adept. You need to know your way around a unix shell.
If all you want is a single account on a no-nonsense, fairly chill Mastodon node, feel free to set one up on nojack.easydns.ca.
If you want a "done for you Mastodon solution" see the next steps at the end of this article.
Step #1) Get a VPS
In your easyDNS control panel, simply click on the "Add VPS" item in the top right menu bar.

Pick your service level and desired operating system. If you're just experimenting the VPS-1-2-40 will be fine, if you're doing this for an organization or team, start with the easyVPS 2-4-80 (you can view easyVPS packages here)
Enter the hostname you're going to use and fire away.
You'll get a welcome email with all the details you'll need to log into your new VPS instance.
Installing Mastodon
Before you install Mastodon itself, you'll need to prepare your VPS by having a few other components first. You're going to want to adequately secure your instance because these sorts of servers are a heat score for malicious activity.
Follow this step-by-step guide maintained by the Mastodon folks, which walks you through:
Only allowing ssh via private keys
Installing fail2ban to prevent brute force attacks
Setting up a local firewall.
Once you've done that, you can follow this guide on the actual install.
After you've installed Mastodon, you'll need to configure it
Finally, don't forget to update your DNS settings to enter the IP address for your VPS in as your Mastodon hostname.
Start Onboarding Your Community
Now you're ready to start gathering your friends, colleagues and co-workers onto this Mastodon instance. You will be able to admin the overall node via https://yourhostname/admin
You should also find some other Mastodon instances you can relay with in order to widen your reach and integration into the wider Fediverse. Those can be managed via your admin panel under /admin/relays. If you need a first relay – peer with us! Just enter https://nojack.easydns.ca and shoot me a note via @stuntpope@nojack.easydns.ca if we don't add you back within a day or so.
What To Do Next
If you're not already an easyDNS member, start by either moving your domain here, or registering a new domain to use for your node.
If you're already here, then get yourself an easyVPS and follow the steps outlined above.
If you're interested in a done for you solution where we take care of everything and fully manage your Mastodon instance, contact us and we'll be in touch with next steps.