We were the first ICANN registrar to support Ethereum Name Service (ENS) linking to legacy IANA TLDs, starting with .XYZ back in 2018 and then earlier this year with many others, including .COM.
That means you could use your .XYZ or .COM domain as an Ethereum wallet address, NFT, etc.
We've now gone a step further and added Ethereum's native .ETH domain for registrations here at easyDNS.
.ETH is Ethereum's own Top Level Domain that runs on Ethereum Name Service (ENS), with over 1.5 million .ETH names registered since 2017. You may be used to seeing them in Twitter handles, and if you already use a web3 enabled device you've probably been seeing .ETH addresses as login identifiers for Decentralized Apps (Dapps).
Enabling .ETH Registrations
There's a new crypto module in the control panel from where you can register and manage .ETH domains (and any conventional names with ENS linking enabled).
As we go forward we'll be adding certain other decentralized namespaces (next up will be Stacks .btc domains).
To see the crypto section, make sure you have your beta flag enabled in your user info

…and then you'll see a crypto menu item under Other Services  in your User pulldown.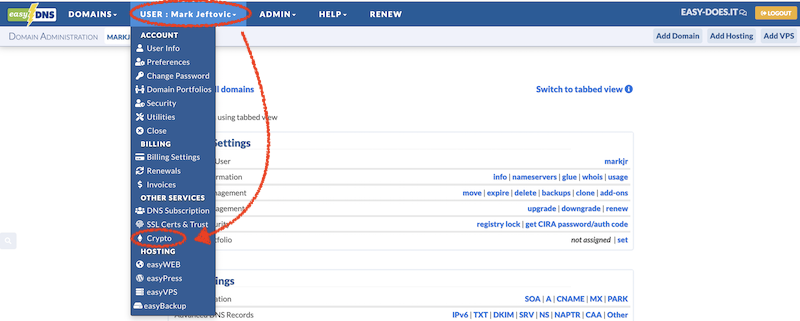 What does it cost and how do I pay for it?
Because we're into a decentralized landscape when it comes to things like Ethereum, we aren't simply interacting with a registry by taking your credit card number and adding a markup.
We can only offer these by taking payment in ETH, you have to have a Web3 enabled browser (like Metamask) and we're adding our margin into the gas fee.
Because of the variance in gas prices (not to mention the USD value of ETH), pricing something like this becomes a bit more fluid. We're requesting 500.000 gas from the end user, which is about $22.50 USD at $1,500 ETH. We'll be monitoring gas prices, as well as the ETH exchange rate and adjust on an as-needed basis,