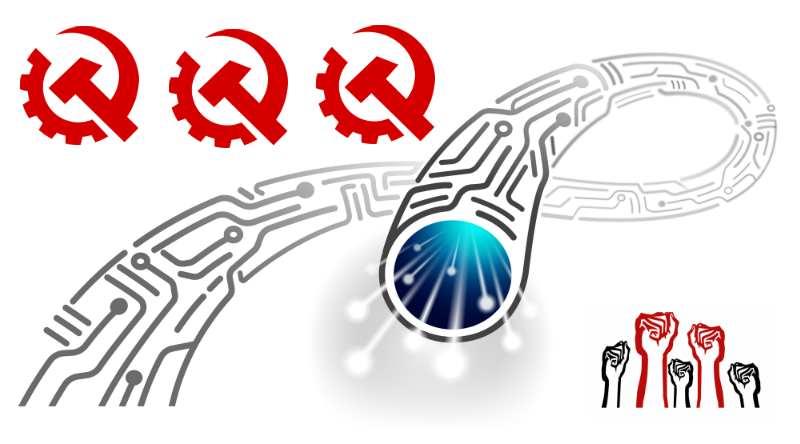 easyDNS is pleased to sponsor Jesse Hirsh's "Future Fibre / Future Tools" segments of his new email list, Metaviews.
Jeremy Corbyn gets serious about free internet
In a bid to get attention and demonstrate their desire to take Britain in a radical new direction, the UK Labour party, under the leadership of Jeremy Corbyn, has proposed free fibre to the home, i.e. broadband communism. Free, fast, and unlimited Internet access for all British people.
The party proposes to accomplish this by nationalizing British Telecom's digital network subsidiary, Openreach, and taxing giant technology corporations like Google and Facebook to pay for it and ongoing network maintenance.
The new provider, called British Broadband, would provide Internet access as a universal public service. Other companies in the UK providing fibre based internet access will have the option of connecting via British Broadband or be taken over by it.
Free broadband will be a "universal public service" – Jeremy Corbyn says the internet is now an "essential utility" as he outlines Labour's pledge

Latest: https://t.co/GSp8goDF2r pic.twitter.com/NqBFIZQiln

— BBC Politics (@BBCPolitics) November 15, 2019
Here's a relevant passage from Corbyn's announcement:
Making broadband free and available to all will open up opportunities for everybody.

It will put us at the cutting edge of social and economic change.

Because what we're about is building a country that's fit for the future.

The internet has become such a central part of our lives. It opens up opportunities for work, creativity, entertainment and friendship.

What was once a luxury is now an essential utility.

That's why full-fibre broadband must be a public service, bringing communities together with equal access in an inclusive and connected society.

Fast and free broadband for all will fire up our economy, deliver a massive boost to productivity and bring half a million people back into the workforce.

It will help our environment and tackle the climate emergency by reducing the need to commute.

And it will make our country fairer, more equal and more democratic.
A bold move designed to spark debate around what is considered an essential service, and what is required to ensure the socio-economic success of a contemporary society.
People saying #freebroadband isn't something essential like the NHS or housing. Well, it is if you use the internet for work, or to find work. Or to fill in government forms online. Or if you're housebound and don't have any other options for socialising.

— Broadband Socialist🌹 (@AlexJCharlton) November 15, 2019
It's becoming or has become an essential part of society, like indoor plumbing or the post. It boggles my mind that people want to pay for worse internet when it could be free and fast for everybody, such is the hegemony against sensible socialist policies.

— Broadband Socialist🌹 (@AlexJCharlton) November 15, 2019
Labour is not just pulling this policy idea randomly out of thin air. They've done quite a bit of work ahead of time connecting the dots amidst the available research so as to articulate a solid argument as to why this policy is necessary:
"Free, full fibre broadband is the electrification of the 21st Century.

We can do it." – Prof. David Hall. pic.twitter.com/xF7iq9kneS

— Jeremy Corbyn (@jeremycorbyn) November 16, 2019
The Conservatives' own research shows why Labour's broadband plan makes perfect sense.

Free, state-owned broadband for all might sound bonkers, but the failure of BT and its competitors shows why state intervention is neededhttps://t.co/fDk8Lpdqsw

— Funny Tinge; Twitting Dinosaur 💚 🖐 (@TwitDinosaur) November 16, 2019
Not only did the recent Conservative led government commission the research above, but the Thatcher led government curtailed what would have been a remarkably forward thinking policy in the late 1980s and early 90s.
With 'free internet' trending here's a reminder that BT was all set to roll out nation-wide Fibre Optic in 1990 but Thatcher halted it demanding that delivery of it needed to be a competition, setting us back 30 years https://t.co/2FdrT6GJcW

— Dan (@_Cabble) November 15, 2019
This policy proposal seems to have caught the Conservative Party somewhat by surprise. Their reaction to the policy, calling it broadband communism (a phrase largely embraced by supporters and yours truly) and arguing that it is unrealistic, only demonstrates how disconnected Tories are from the reality of Internet connectivity (and research) as well as the potential of what can and should be done.
UK Conservatives call it 'broadband communism' – but governments everywhere are building next-generation digital infrastructure.

Even in towns across the U.S., publicly owned broadband isn't unusual, writes Thomas Hanna.

(via @_ourEconomy)https://t.co/zGLmAyFwdL

— openDemocracy (@openDemocracy) November 18, 2019
Nowhere is this more evident than in the United States, where in recent years more than 800 communities have established locally owned broadband networks (of which around 500 are publicly owned). This includes around 150 communities that have super-fast networks of at least 1Gbps and 20 that have 10Gbps networks. Publicly owned broadband networks are increasingly attractive because, like in the UK, wide swaths of the country – especially rural and low-income areas – remain unserved or underserved by the big corporate telecom companies. These corporations have little incentive to invest in improving networks in such areas, choosing instead to make profits for their shareholders by increasing rates for consumers in areas where they enjoy a monopoly or duopoly.
This is a big motivator for this newsletter to focus on this policy, and the broader techno-social movement behind it. A better Internet is possible, and there are people from across the political spectrum, in a diverse range of communities, who are taking their connectivity needs into their own hands. Or in the spirit of broadband communism: seizing the means of connectivity!
In particular what strikes me as significant about this public policy, and the debate surrounding it, is the recognition that broadband, and fibre optic infrastructure in particular, is so essential to everything else we envision as included in our future:
"Publicly owned fibre networks don't just mean free WiFi. From energy grids to smart transport, they will be the backbone of a new, green socialist economy."

This is a fantastic essay by @Miranda__Lena. Highly recommend. https://t.co/ekTpoQHDAW

— Laurie Macfarlane (@L__Macfarlane) November 17, 2019
If this backbone is controlled by profit-driven investors, it will replicate the logic of what has been called 'data extractivism', 'data colonialism' or 'surveillance capitalism.' Digitize (and therefore monetize) everything you can get yours hands on and don't ask about the human or environmental costs.
But if this backbone is brought into public ownership, it will play a crucial role in a transformative agenda to decarbonize the economy. Charging points for electric vehicles rely on fibre, but more importantly, connectivity could enable a new publicly-owned and digitally-mediated integrated transport system that includes better-planned bus routes, dockless bikes and e-scooters in order to hit carbon-reduction targets. Smart energy grids could be built on top of fibre networks in order to diversify energy sources and create more resilient and distributed power supply. Feedback loops from connected objects and Big Data could also enable forms of non-market economic planning to meet the challenges of climate breakdown and automation.
The stakes are high. The configuration of the Internet will have a significant influence on the configuration of society, in so far as society is being built upon the infrastructure enabled by the Internet.
I've been promoting the policy of free Internet for a couple of decades at least. I usually had to frame it as a joke, or a wild policy, but thanks to comrade Corbyn that policy, while still radical, is no longer that crazy.
When this policy was announced, the stock prices of British Telecom and other UK fibre providers did not drop much as the market does not anticipate Labour winning. Brexit is the larger policy dominating this British election, and that's an area where Labour has not shown leadership or even made up their mind as to what they want.
Yet Labour under Jeremy Corbyn deserves credit for articulating this policy, and doing so in advance of releasing their main platform, so as to give it extra space to be heard and discussed. While the concept has been criticized, and the costing questioned, it is a fantastic way to foster debate and encourage us to imagine a different kind of Internet.
Labour's critics are horrified the party would propose popular policies like free broadband and more public holidays. It's understandable — before Jeremy Corbyn arrived, the Tories and New Labour spent years insisting that life in the UK can't get better. https://t.co/SML4rug1gh

— Jacobin (@jacobinmag) November 19, 2019
We'll keep tabs on the UK election and specifically on whether this policy of free broadband for all has any traction or impact.
Of course one of the best things about British politics is the open debate and the characters that attracts. If you really want to immerse yourself in broadband communism, check out this rather entertaining video from Speakers Corner in Hyde Park in London:
And finally, for some historical context, note the prices in this ad for mobile phones in 1987:
Radio Shack cell phone ad in 1987:pic.twitter.com/HOqI2FgCBw

— Jon Erlichman (@JonErlichman) November 17, 2019