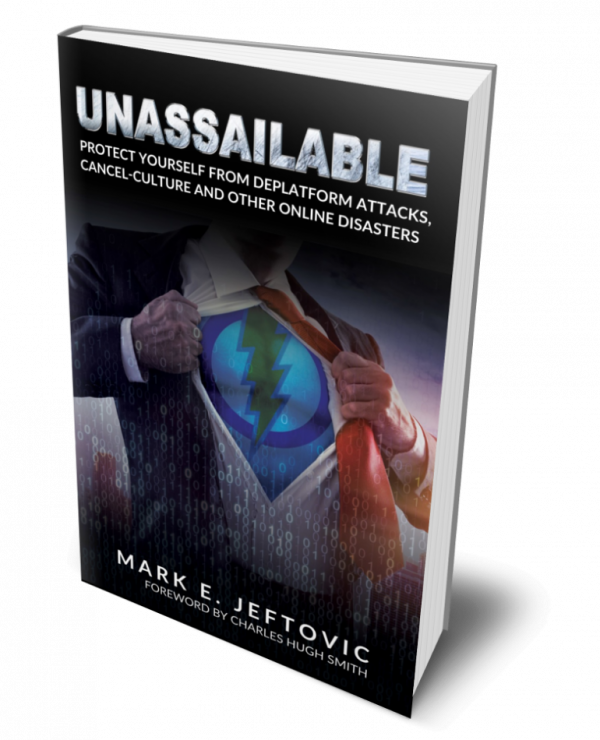 UPDATE April 23,2020: I've decided to make the ebook version of my latest book: Unassailable Protect Yourself from Deplatform Attacks, Cancel-Culture and other Online Disasters available for free, follow this link.
You can read why here.
Originally, this was supposed to be a 15 or 20 page ebook / report we were going to give away free for an opt-in to our #AxisOfEasy weekly digest. That idea germinated in late spring, '19 and as the summer progressed I kept hearing and coming across more references to content creators facing deplatforming headwinds. I kept expanding and adding to what I was writing, and suddenly, it's 184 pages (the print version, anyway, the ebook is between 120 and 150), so now it's a book.
Charles Hugh Smith from OfTwoMinds wrote the foreword, so I am honoured and humbled to be able to make that a part of the book.

From the back cover:
We live in an age of cancel-culture run rampant, where those who don't agree with your opinions eschew civilized debate and instead opt to mobilize flash-mobs seeking to deplatform you, your content or your business. When even the president of the United States isn't immune from deplatform attacks, it tells us that somebody needed to write a book like "Unassailable".
In his second book, internet industry veteran and naming expert Mark E. Jeftovic describes an overarching strategy that minimizes your attack surface against online censorship and helps you come back stronger and louder from takedowns.
The first part of the book examines the history, philosophy and the ethos behind culture wars and battles for narrative control. Then in part 2 the reader is stepped through every component of their online infrastructure, from web hosting, to email delivery, to video hosting, to payment gateways in order to make sure you have as much control over your own online destiny as is technologically possible.
All content creators need to read this book. Even if you think nothing you say is controversial or would run afoul of allowable opinion, the internet mob can turn on you in an instant. Be ready.
Unassailable in the media