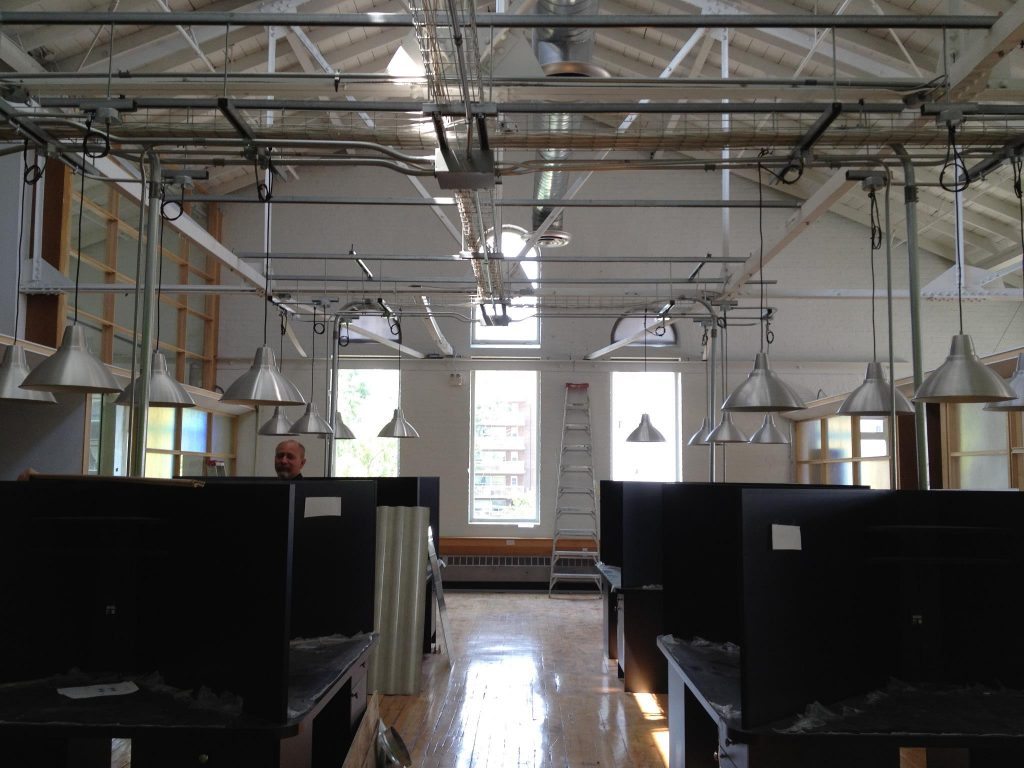 It all started about two or three years ago, I walked into the office one Monday morning around 10am… and I set the alarm off. My initial shock that I was the first person in on a Monday at 10am was quickly overridden by the realization that I had no idea what my alarm code was.
The 30 second countdown to the alarm was ticking.  Juggling my coffee and fumbling for my phone, by the time I had my notebook app open and had searched up my alarm code, I knew I wasn't going to make it when I saw that it was encrypted. Game over as a very loud alarm starting blaring through the office building, disrupting about 2 floors of the Dufferin Liberty Centre.
Once I got everything under control I wondered if I had come in on a Sunday by mistake. But no, checking the email and ticket queues, it was Monday morning, and the company was humming along tickety-boo. It was just that nobody came in that day, except me. Everybody was working remote.
That was when I started asking myself "Do we really need this huge expensive office space in the middle of Toronto's Liberty Village tech hub?"
The Final Straw Came When….
Then a few weeks ago I was talking with our CTO via Slack and he casually mentioned "I will come into the office from Caledon after lunch" and I said, "Oh, what are you doing up in Caledon?"…and he said "I live here now", and then I said "Since when?" and he said "About a year".
Here's a guy I converse with pretty well every day, and I usually assumed I was conversing with him in our office and here I find out, he's been an hour north of the city most of the time.
That's when I realized that we had this huge office space in the highly sought-after tech hub of Liberty Village, and we were barely using it. Our lease is up June 30, and we were waiting to hear back from the landlord about a 2 or 3 year extension. The idea was to renew for a shorter period because we're seriously considering buying our own building at some point.
A couple days later the landlord came back, standing firm on 5-year extension, plus an across the board rental increase of about 8%, plus a baked-in annual increase of 6%, plus an additional levy for a new HVAC system on the roof.
Considering this against the macro backdrop: We're staring a recession in the face. After kicking the can after the 2000 Tech Wreck the 2008 GFC, central banks and policy makers have no dry powder. Interest rates are already near zero, they can't normalize. Real estate in Canada has topped out and next major move for property prices will likely be down.  The next recession will be global and it is going to be brutal. (All IMHO, of course. I write a lot more about these issues over on Guerrilla-Capitalism)
And here we have a chance to painlessly jettison a major chunk of SG&A, along with a long term liability north of 7-digits and the difference goes straight to the bottom line.
The decision was a no-brainer. It was time to pack up shop, and go 100% virtual.
The Bigger Picture of this Dynamic
Socio-economic commentator and easyDNS client Charles Hugh Smith recently wrote how technological disruption and financialization are transforming the economy. As he observes:
Companies are faced with Andy Grove's famous summary of technological change: adapt or die. As the chart below illustrates, companies in virtually every sector are being forced to adopt technologies that reduce human labor while increasing productivity. Those who fail to do so effectively enough and soon enough will be outpaced by global competitors.
This holds true for easyDNS as much as any other company. We are not a tech unicorn, we are not burning away large tranches of VC funding in an effort to cannibilize our entire space, we aren't growing for growth's sake so that we can get acquired.
In other words, we have to do business the old fashioned way — at a profit. At the same time, we have to compete with VC funded unicorns who don't because their business model isn't about serving customers or turning a profit, but rather about mining users' data, and parlaying the "mindshare" into serial financial events.
The Upshot:
Luckily a confluence of events has presented itself and we can move to entirely new level of lean, without replacing anybody with an AI-powered bot:
On June 30, 2019, after 18 years in the Dufferin Liberty Centre (making us the longest running tenant in the building), we are shutting down our physical office space and going completely virtual.
This isn't a huge stretch for us, as the opening anecdotes illustrate. The majority of the staff has been virtual and remote for years already anyway. Many of the staff don't even live in Toronto anymore, some are out of province, and a few are out of country entirely, we have several fulltime employees in Serbia, one in Mumbai (Subin) and one in Philipines (Vicky).
Our New Mailing Address:
We have the space until June 30, but if you have to mail us anything (we're one of the few tech companies where you can still remit via cheque), you can start using our new mailing address right away:
easyDNS Technologies Inc.
4243C Dundas Street West, Suite 405
Etobicoke, ON
M8X 1Y3


Everything else stays the same, the phones, the email, the website, the amazing service, the clueful support, none of that changes. In fact, without having to fight a Mad Max style commute along these Toronto roads every day, we'll probably get even better at our jobs.
To be honest, I'm excited about this. My wife, keeps a small office near the house and I'm setting up there. That means I'll recoup close to two hours per day during the school year from my daily commute and I can use that time more productively, including spending more time writing a lot more about technology, security, privacy and crypto-currencies.