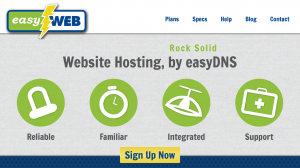 Now you can host your website under the same umbrella where you have your domains and DNS – easyWEB Rock Solid Hosting by easyDNS is now here.
There a number of reasons you would want to host your website with us now that we've officially entered the space (not the least of which is you've been asking us for web hosting for the better part of a decade, so here it is…)
Keep more of your IT infrastructure with a vendor you trust
All the servers are in Canada
Easily integrates with your DNS settings right here
24×7 support when you need help.
Based on cPanel – no need to learn a new dashboard.
We've been beta testing the easyWEB platform over the summer and after a final rebuild / upgrade of the hardware platform, it's ready for prime time. Plans and pricing are outlined here.
Also, if you run WordPress and you missed our earlier announcement, there is also: easyPress.ca, (fully managed WordPress hosting in Canada, eh), which we formally launched earlier this year.