Last week we enabled Bitcoin as a payment method. It works a little differently than the other payment methods.

Click on the Bitcoin logo, once you remit your payment to the Bitcoin address that will be displayed for your particular invoice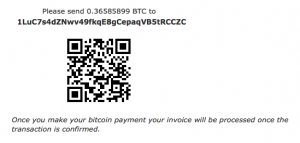 Send the exact amount do not round up or down.
Once we receive 6 confirmations on your payment, your invoice will be provisioned.
Also note that for new domain registrations, transfers and DNS service, when you pay via Bitcoin you should use the following nameservers initially:
btc1.easydns.COM
btc2.easydns.NET
Also note that given the volatility in Bitcoin pricing, if you require a refund it will be in normal human currency, like USD or CAD.
You may also be interested in the Bitcoin discussion thread on easyCafe.