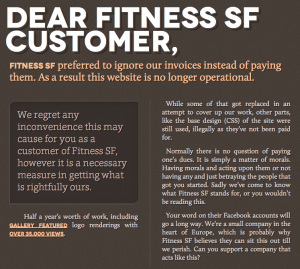 There's an article on BI about how a disgruntled freelancer took a gym's website offline over a billing dispute. Regardless of who's right and who's wrong in this particular case, it underscores the reality that too many businesses let their core domain holdings be registered on their behalf by freelancers or employees in their own names rather than in the name of the organization itself.
This is a huge vulnerability and one of the more common causes of why we see businesses going offline.
As we wrote in our "Definitive Guide To Never Losing Your Domain Name Again", (members can download it here)
Whoever or whatever entity is listed in the Organizational contact for a domain name for all intents and purposes owns the domain.

Who is listed here? It should be YOU. Your name, your company or other applicable entity. Too many times, what gets listed here instead if YOU are any of the following:

 The personal name of an employee
 An outside web designer, IT consultant or programmer
 Your web hosting company
 Your Internet Service Provider
 Your Domain Registrar
 Anybody else who isn't YOU or YOUR COMPANY

When this happens, you basically operate your entire web presence of your domain at the whim of whoever actually "owns" it: the person listed as the organizational contact.
In this case, the gym, fitnessSF.com made the cardinal error we're talking about, they let the web designer register the domain name:
In this case Frank Jonen is the web designer, not the gym. Whether the designer has a legitimate pay dispute or not is beside the point, there are ways to settle such matters.
We've seen enough cases here where disputes were not with merit but the domain was hijacked and held for ransom anyway. As your domain registrar, we have to follow the rules and rules are clear: whoever is listed as registrant, calls the shots on the domain.
So don't let this happen to you, always, 
always  
ALWAYS
  list
your organization
as the domain registrant for all of your domains.  If you hire outside talent to develop your websites, you secure the domains within your own registrar accounts with the domains in your name. On our system you can then assign any permissions your hired guns need
via a domain portfolio
while
you
retain all operational and legal control over
your domains.
Don't let it happen to you.