We have decided to bundle MyPrivacy.net Whois Privacy at the DNS Hosting level of service.
It is still a $4.95/year add-on at the DomainPlus level of service (and it is still also about half the cost compared to most other registrars).
For those members who have already paid for a MyPrivacy.net whois privacy upgrade at the DNS Hosting level of service, we will be depositing a full credit for each domain purchased into your member account.
To activate whois privacy on any of your domains you simply go into the Whois editor page from your Domain Overview module.
Remember, on .COM and .NET domains you can even set your own custom private registrant, so you can put the name of your entity while keeping the rest of your details private:
And did you know…
That all .COM and .NET domains, for which we are Registrar can put a Custom Whois Message into their whois records free? We've seen prices as high as $20/year for that.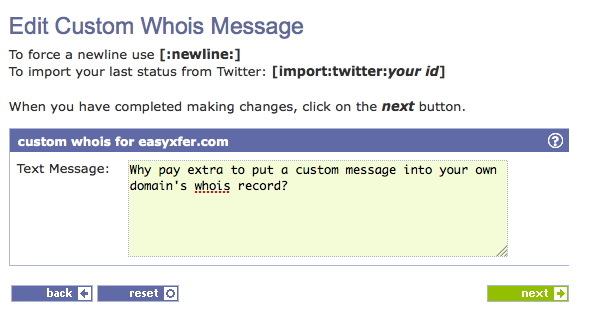 This is also were you can enable tweet2whois, the only mechanism IN THE WORLD where you can put your twitter status into your domain's whois record. No, we're not kidding, we have a team of demented scientists who think this stuff up 24×7.