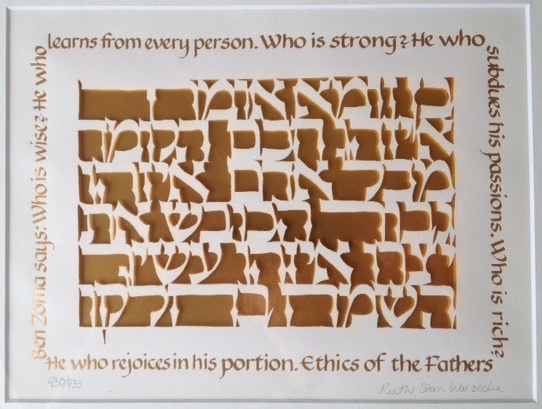 Today is our first day with the entire team in the new office! We're in 2 days ahead of schedule and the entire move squad, Arnon, Erol, Evan and especially Alex did amazing on logistics while Ranko and his girlfriend Maria pulled a rabbit out of a hat and configured a complete, ground up setup of our new phone system in about 3 days. Way to go everybody!
We have a lot of stuff in boxes, etc but as we are slowly getting settled I can finally hang up the "Ethics of the Fathers" lithograph that was given to me by a very special customer a couple weeks ago.
That special customer is Michael Shapiro, founder and CEO of ketubah.com. A "ketubah" is a Jewish wedding contract of sorts, they are prepared with great care and artistry and are a critical component of a Jewish wedding ceremony. Ketubah.com does these for couples all over the world and they are an easyDNS customer. In fact, they are the first easyDNS customer, being the very first domain name that we ever registered on behalf of somebody else, back in 1996 when we were still Private World Communications.
I love their story and their niche, Michael and I have lunch every once in awhile and it's been a treat to watch him grow his business over the years. The way he took a very traditional, ancient art and melded it with modern day internet technology is a great case study of a typical easyDNS customer.
It will be a pleasure to hang "Ethics of the Fathers" on my new office wall. The text reads:
Ethics of the Fathers

Ben Zoma Says:

Who is wise? He who learns from every person.

Who is strong? He who subdues his passions.

Who is rich? He who rejoices in his portion.
Today, Friday the 13th is our first day in the new digs, and in a couple weeks, on July 31st, easyDNS will officially be 13 years old. Stand by for a special announcement on our birthday and I hope everybody is having a great summer. Stay cool out there!
P.S Our new office address is:
easyDNS Technologies Inc.
300A-219 Dufferin St.
Toronto, ON
M6K 3J1