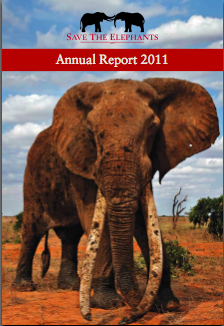 This past week we received our copy of the 2011 Annual Report from Save The Elephants. As you may recall we made a donation last year during one of Godaddy's seemingly myriad public gaffes involving an elephant snuff vid made by then-CEO Bob Parsons.
Since then, the internet marches on, some other outrage, some other media fracas, possibly involving Godaddy again but for the most part, we all tend to react, maybe do something in the moment, and then we move on.
Well I'm glad STE sends their annual report out to donors, because I've just finished reading it and I find myself in awe of the work STE is doing in pursuit of their mission. They have truly embraced an all encompassing approach, from collaring and monitoring elephant families, to building schools and helping local communities struggle out of poverty so that they have viable economic alternatives to poaching.
The good news: they are making real headway over there, helping these communities and getting grass roots support from within those communities to actively become stewards and conservators of their elephant populations. Then on the demand side of the equation they are undertaking exchange programs, going to points Far East, where most of the demand for ivory originates, to foster education; while bringing dignitaries from there to Africa, to see the elephants' conditions on the ground.
The bad news: Ivory prices are soaring, demand seems to be climbing and poaching is at an all-time high. 2011 saw the highest percentage of mortality from illegal poaching on record.
Despite all the great work and tangible results STE is achieving, they need help more than ever. With this in mind, we're going to make our corporate donation a regular part of our charitable contributions, and we are adding Save The Elephants as an option to our Feedback Survey donation. (Whenever an easyDNS member completes our Feedback Survey, we make a donation to a charity they select: UNICEF, Children's Wish Foundation, World Wildlife Fund, and now Save The Elephants).
Props also to Namecheap who joined STE's list of Conservation Visionaries for their > $20,000 donation during Godaddy's elephant-gate last year. Maybe they can run another coupon deal for STE in April and do that same $1/per.
We encourage all to make a donation to Save The Elephants, or if you're a member here and care to tell us what you think of us, we'll do it for you.