We're happy to announce easyddns, a dynamic DNS client for Mac OSX. After noticing a distinct lack of options available from third-party vendors for Mac-based dynamic DNS clients, easyddns has been developed by easyDNS, for easyDNS members and is available here.
This client only works for domains on the new user interface. If you are moving a domain to the new system to use this client, you should be aware of a few key differences that are outlined here, mainly:
On the new system, hostnames using dynamic DNS need to be entered as type "DYN", and they need to exist prior to being updated remotely.
The new system supports "Auth Tokens" for each DYN hostname, and we strongly encourage you set and use an auth-token instead of your user account password to authenticate.
Once you download the .dmg file, click on it, drag it to your Applications folder and then start it up. Enter your hostname settings in the "Settings" tab, and once you click "Start Updates", you'll see a new 'e' icon in your top taskbar: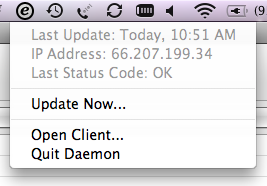 If you run into any problems with this or have any questions/comments, feel free to open a support ticket or post them here.