We've written a free guide that basically outlines a basic methodology on how to organize things so that you never lose your domain names. We've been in this business for over a decade, I've basically been in the habit for years of visually inspecting the domains that are about to be deleted by the registry for non-renewal every night and I'm still surprised sometimes.
In fact just tonight I found a couple domains held by a publicly traded hi-tech company with a market-cap in the billions. These names were are about to drop and I know it's probably a mistake. I know this because these guys have done this already once before (they almost lost the ".net" version of their name), and we got them on the phone to redeem it then, and they were pretty happy we did.
So every night I look at the list and if anything leaps off the screen at me, we pull out the stops to bring it to their attention, ASAP  ("Did you guys really mean to let this one drop?") We can't do this for everybody, there's just too many names on the system and we don't recognize from sight which ones are in this boat.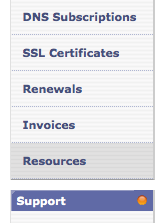 What we can do is try to educate people as best we can. So with this in mind we're making The Definitive Guide To Never Losing Your Domain available in the new members' "resources" section, which you can access when you're logged in via the new "Resources" side menu item within the new interface.
If you are not an easyDNS member, or perhaps you would like to refer a non-member to this guide, we've also made it available via NeverLoseADomain.com.