You can now add a custom message to your .COM or .NET whois records.
Simply log into your members panel (this is on the new interface) and click on "whois" for your domain on the "Domain Information" line.
Then, for .COM and .NET domains (we cannot do this for other domains because the registries control the whois servers, not us), you scroll down to "Custom Message" and enter yours.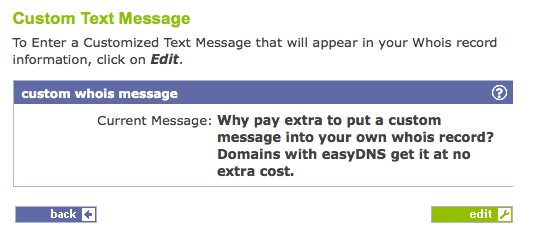 You cannot use HTML, and any HTML tags will be stripped out. Maximum 5 lines, we force wrapping at 70 characters (this was the best balance we could find between port 43 whois, which is raw ascii output, and via web portals such as http://www.easywhois.com )
If you want to see an example of a custom whois message, do a whois lookup on chessforums.net.